About Sims Chiropractic Wellness Center
Every decision you make either moves you toward wellness or disease."
Since we opened Sims Chiropractic Wellness Center in 2007, we've been passionate about helping patients to take control of their health just as Dr. Brian Sims did. Having grown up in the area, he experienced the benefits of chiropractic when he was younger. Dr. Sims suffered from asthma-related issues but after receiving chiropractic care he no longer needed medication. He is passionate about helping patients experience peak health through our natural care.
Getting to the Root Cause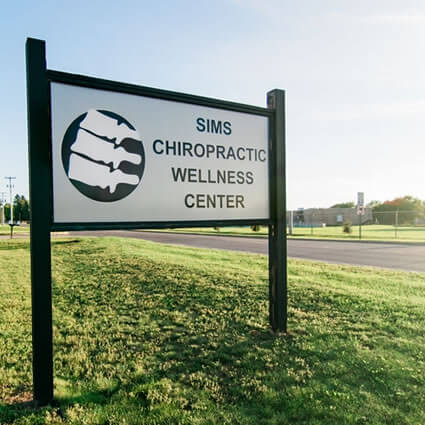 Perhaps you've been to multiple healthcare practices but haven't gotten answers. Or you've been handed prescription after prescription but those medications have just masked your symptoms. With our drug-free, non-invasive chiropractic care we can get to the root cause of your condition and provide natural care that gets great results.
The SIMS Philosophy
We adopted an acronym that represents who we are as a practice:
S – Service
I – Inspire
M – Motivate
S – Succeed
It's our desire that patients serve their community because they're inspired and motivated to do so because their health has been restored here.
Providing Honest, Ethical Care
Maybe you've been a patient at other healthcare practices where you felt talked into care you didn't need. Here, we always provide honest and ethical care. You'll never be talked into anything that you don't need.
Dr. Sims always wants to help patients improve their health. If he can't help them, however, he will point them to someone who can. "Even if you're not a patient we want you to utilize our website for its informative health-related content," he said.
Always Learning for Patients' Benefit
Dr. Sims loves taking on complex or complicated cases. Even if he's struggling to determine what's going on with a patient, he takes the time to learn after hours to try to help patients with challenging conditions.
MEET THE TEAM
Offering Help Across the Spectrum
From relieving patients' aches and pains to helping pregnant patients enjoy a healthier and more comfortable pregnancy, Dr. Sims enjoys assisting patients of all ages. He also has patients who have had a disc surgery or laminectomy and were able to get help in our office.
Get Started Today
Contact our Cadillac chiropractic care center today to schedule a convenient appointment!
---
About Sims Chiropractic Wellness Center | (231) 779-4772